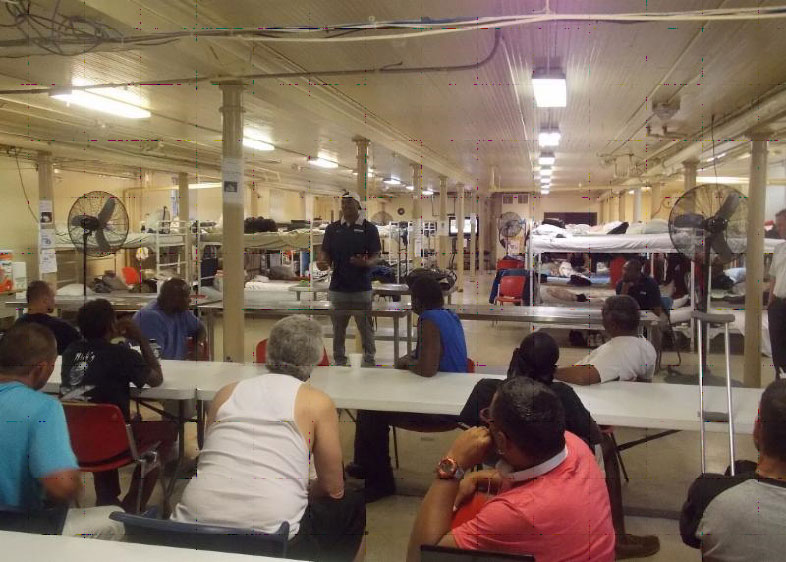 Formerly homeless himself, UConn linebacker, Vontae Diggs, recently visited ImmaCare's shelter to share his story with clients. We are extremely fortunate to have had this opportunity as it was the first time Vontae spoke publicly to a group about his story. He explained that like his mother, he is a private person and until the recent newspaper article about him was published in The Courant, even his teammates didn't know his history.
At only 20 years old, Vontae Diggs has experienced homelessness and has been able to rise out of it and begin to make a successful life for himself. In addition to his commitment to the football team, Vontae is a Human Development and Family Studies major. He states that he would of course love to be in the NFL, but also plans to be a high school counselor and coach high school football as he wants to be able to help students of all walks of life.
Born in Las Vegas, but growing up in and around Chicago, Vontae is no stranger to adversity. He spent time living in a hotel, the back of an Oldsmobile, and sometimes the park. Vontae, his mother, and his brother lived in the Oldsmobile for almost a year; each morning before school, he and his brother would go to the nearby McDonald's to wash up. He spent much of his childhood making excuses as to why he couldn't invite his friends over to his 'house' and couldn't afford activities with them. As a sophomore in Downers Grove North, Illinois, he was called up to the varsity football team, where he excelled. His coach said that he wasn't always coachable, too often messing around or fighting during practice, but that in time, Vontae became the team's best player. Vontae was pushed to the limits both on the field and in the classroom, oftentimes finding it was too much for him causing him to walk away and return to his street antics. But then, while at football camp, he had a life-changing conversation; he was told "I've never seen someone who has had so many opportunities and keeps throwing them away." This comment really struck a chord with Vontae and he decided to change his life. He assured the ImmaCare clients that he's not perfect and that he has his lapses of judgement at times, but that he's "always trying to do everyone back home proud."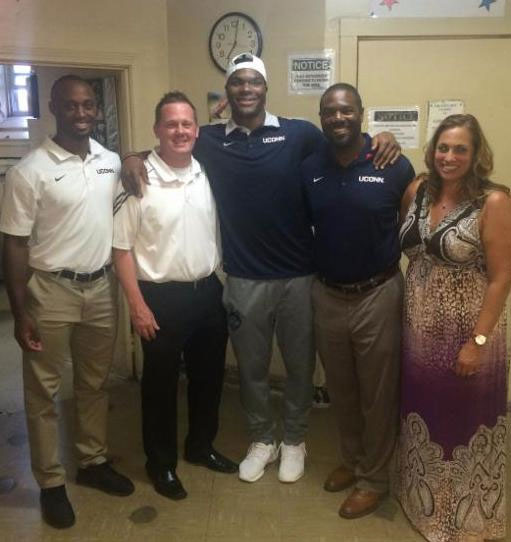 Vontae shared with the men that he's seen many of the same things that they have seen and if he can do it, then they can too; he believes that we all have a purpose in life. He also expressed how important it was for him to swallow his pride and accept the phrase "I need help." He believes that "No one is ever perfect and no one can ever be perfect, but that you have to keep pushing to be perfect. You have to keep pushing, you've gotta keep fighting no matter how hard it is."
Vontae shared that he spoke with his mother on the phone that morning, and when he told her that it was the day he would be speaking at the shelter, she broke down in tears. Coming from his background, to where he is today is quite an accomplishment and really touched both his mom and the clients of ImmaCare.
The clients responded well to Vontae's words. Many of them expressed to him how moved they were by his story and gave him credit for doing what he's done so far with his life. Countless men made sure to shake his hand and take their picture with him afterwards. One of them said that Vontae's story gave him more strength to keep going. Another said that he was reminded that their lives aren't over yet and that they still have time. Because age is merely a number, even one 63-year-old man was moved to share his age and express how touched he was by 20-year-old Vontae.
Spurned from a joke about how he could stand to bulk up, some of Vontae's closing words was a reminder that it's "not the dog in the fight, but the fight in the dog" and that he will continue to give it all he's got – clearly a mindset that he holds both on and off the football field.